The Cougar Den was riled up last Wednesday after school.
The Lady Cougar volleyball team had their second game of the season at 4:00 PM at home in the Cougar Den on Wednesday afternoon against Samuel Gompers Industrial High School.
The score, in sets, was 2-1 and SBP/223 was victorious!
In the first set, the Lady Cougars were absolutely dominating, they were hitting attacks, blocking, and receiving powerful serves. They racked up 21 points, while Samuel Gompers only had 10 points.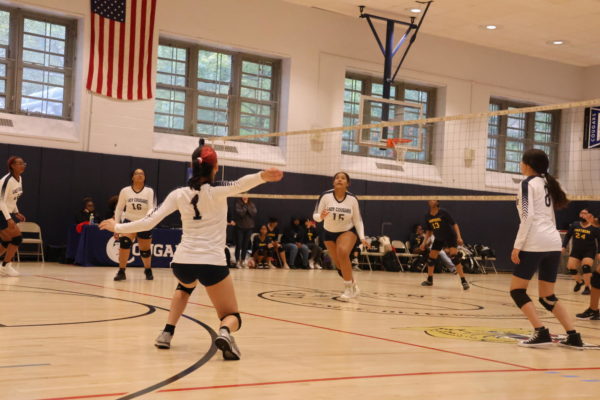 Although the Lady Cougars were doing well, it was also quite a tough game for them. During the second set, Samuel Gompers was leading at 14 to 3. Laura Almanzar (F&T '25) said that the team did really well, but during the second set, there were a few hiccups. "We got too full of ourselves, and we could've done better as a team," said Almanzar.
This was a surprise since practice has gone so well this week. Isabella Sanchez (SBP '24) said that practice was pretty good this week. "People put their all into it," said Sanchez. If they keep playing the way that they have been, Sanchez says, "The stats will be through the roof".
Almanzar said there are a lot of things the team needs to work on. "I feel like we could work more on communication and learning our rotations better."
It was hard for the crowd to see this lack of communication when players were hitting multiple offensive hits against the Samuel Gompers.
"That was great," said Laura Almanzar.
The next game for the Lady Cougars will be an away game against Kipp NYC College Prep at 4:30 on 10/4/23.
Mr. Trawally, coach at F&T, expressed his thoughts on the future game. "I've been seeing good energy from you guys, you guys look way more confident this year and I expect you all to do well."