Carrie the Musical: The Review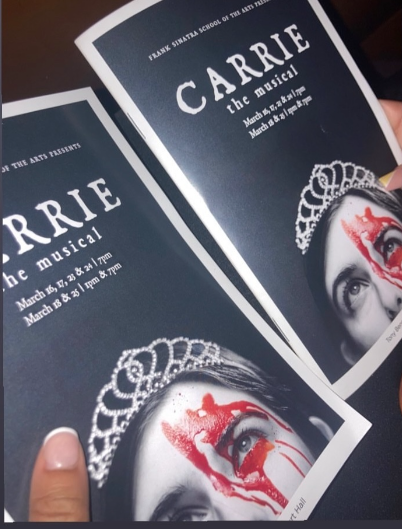 Stephen King is best known for his dark and disturbing tales in which he portrays the lives of young kids being changed by supernatural occurrences that cannot be simply explained. Out of all his bestsellers, his first novel Carrie, 1974, stands out from the rest of his publications, due to how Carrie is translated in several ways that have captured different elements of the beloved novel since its publishing in '74. 
However, unlike novels that would follow, Carrie was translated in a way not all Stephen King novels get translated. Carrie Whites' story was turned into a musical production that despite not performing well on Broadway during its initial release in 1988-nor its revival in 2012-many audiences were split on the musical itself.
I had the utmost privilege to observe a high school production of the musical, courtesy of the Frank Sinatra school of arts. I must highlight how refreshing it was to see a story whos purpose was to terrify and disturb people, get actively translated into musical theater without losing its theatric factor. The musical itself had marvelous compositions as well as musicals which highlight each character's traits as well as amplify their personalities and display development throughout the show.
If you have a chance to attend this musical make sure to take notes and embrace the experience. If enough interest is shown towards this musical via our community, we can possibly plan a trip!
What do y'all think?