The Final Stretch: Personal Statements and the Broader College Process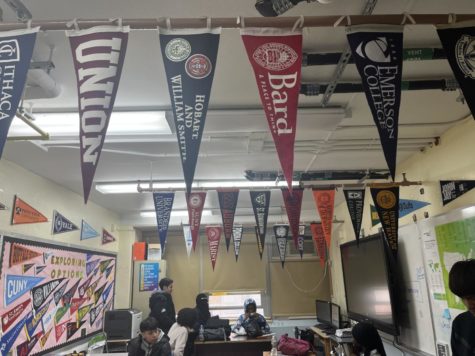 Fingers pacing across the keyboard in a race to finish the task at hand. You write, and write, and write. You stop. Your personal statement is done, and you are approached with a huge wave of relief. The reality for many students is the completion of integral parts of their application. This is not limited to the content of the applications themselves, but more broadly, the college admissions process as a whole. Students have been working relentlessly since the beginning of high school, struggling with grades and extracurriculars to include in many applications in their admissions process.
The college application process can be daunting and stressful for all students. Even with support from the school's college-related organizations, such as I-mentor and the college office, there are still doubts and worries that follow the seniors at HS223. One of them is the not-so-easy college essay, the personal statement.
 Franklin Fortuna, a senior at HS 223, describes the personal statement as "difficult" because "there hasn't been enough guidance in the creation of the personal statement" but acknowledges there "have been people who edit and revise the essay." Students are finding support in some areas, but are finding a lack of resources in another. 
Many feel "intimidated" to request such services because the college admissions process is occupied with the completion of financial aid, scholarship, and program applications. To ask for further assistance in the creation of the college essay requires commitment and time, both limited making this an extensive process. 
The personal statement to some is even considered to be an ultimatum, a choice between schoolwork and college work. There was a struggle between prioritization of the two, leaving students in a situation where they would have to " sacrifice the completion of some of their classroom assignments. 
Many couldn't afford to take that sacrifice, "as it would drastically affect my GPA" according to Sharai Alvarez, a senior reflecting on her experience with the personal statement.
As students find balance, both school assignments and college applications can become heavy burdens without a set schedule.  
Even then, it becomes difficult to keep track of everything on a to-do list, as much as we would like the deadlines to be reasonable, many students believe they are not. On top of the personal statement, seniors have to complete The Common and CUNY applications.
 The Common App is a platform where students can submit one personal statement, various supplements (additional essays), and their academic history for high school, for multiple colleges. The CUNY application is for the city schools of NYC and has fewer requirements to complete per school, with only one essay and no supplements or additional info required. Both application processes are difficult in their own way, but they both have their fair share of positives and negatives. 
Rougiatou Bah, a senior at HS223 mentioned "the CUNY application process was easy, it was filling out information about yourself and answering a couple of questions, "but she followed by saying "the common app is another story" explaining that "supplements add additional stress and work to complete that was previously not present in the CUNY application."In addition to the complications of the CUNY and Common applications, some seniors started their applications in August. 
King Tapia, a senior who began work on the Questbridge application noted that the September 27 deadline was "reasonable" and since the application opened in the summer, it was "not only an opportunity but a challenge."But he clarifies that "there is no escaping that hard work" an important lesson that many seniors have learned during the 22' application season.