Basketball Season Begins: The Path to the Championship
COUGAR BOYS AND GIRLS HOOPSTERS LOOK TO REPEAT LAST YEAR'S SUCCESS
The 2022/2023 boys' basketball season opens this month. The team has had to rebuild from last year when the squad was 12-2  and won the divisional championship.  The deep playoff run was stopped by the Community Health Academy of the Heights.
"If you want to play for me you have to be open-minded, hard-working, dedicated, coachable, and ready to improve rapidly," said 15-year head Coach Campbell during team tryouts in November. "If you don't have that, then the Cougars aren't your place".
The coach looks to get the best out of his players on the court and in school.  Maximum effort for the team and good grades and attendance are expected of all team members. The coach looks for hard-working and responsible players that have a passion for the game. 
The seniors of last year have graduated and the team is now being led by a new class of seniors, juniors, sophomores, and freshmen.
Final cuts were made in the first week of November. The following students of the team are Fahim Adika, Tristan Bowen, Avin Benjamin, Jayden Brito, Marcus Collado, Mekhi Daley, Judah Elmore, Jden Gomez, Sirpatrick Livingston, Erik Llivichuzhca, Tyler Maschino, Melvin Nunez, Osaze Okungbowa, Mark Peralta, Chase Perez and Xavier Agyemang 
Coach Campbell works with the women's varsity basketball coach Mr. Trawally to connect the team with the men's and women's teams. Cross-training and practice sessions are commonplace as Coach Campbell and Trawally find them functional team-building exercises and a great way to develop strategies. It has worked in the past and is expected to continue working.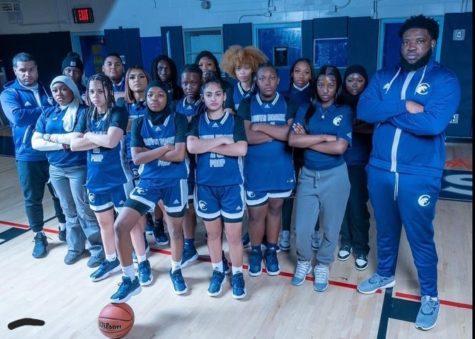 The girl's basketball season is also kicking off this month.
In an interview with Coach Trawally, the coach of the girl's basketball team, Trawally says he is looking forward to leading last year's undefeated division champions again and making more progress into the playoffs. 
"From last year, we were the number two team in the city and we made the Final Four of the playoffs," Trawally said. "We look to win the championship this year."
From last year's season, The Girl's Basketball team ended with a 14-0 record and a loss in the semi-finals. 
Like Campbell, Trawally also looks to get the best out of his players on the court and in school. "The types of players that I want are athletic, hard workers, passionate, and team players".
Trawally clearly looks for players that are coachable, hard-working, responsible, and have a lot of passion for the game.  
The Final cuts of the girl's basketball team include Anna Astre, Brianna Brito, Saran Camara, Adalise Caraballo, Amileon Corporan Cotto, Juanita Guzman, Tymere Moorer, Osayamen Okungbowa, Serena Palau, Fatoumata Siby, and Jocalyn Suarez-Clarke.